Engraved Handguns & More!

We love engraving gun slides & firearms!
We were given the ability and creative freedom to customize a gun slide for a local state policeman in Virginia. We are the gun engraving experts here in Richmond, Virginia. Custom Engraved Guns are one of our many specialties. We can engrave whatever you want on any type of firearm or metal surface. Custom Engraved Guns is an art, there is even a little science involved…and we've got the science down. Out of the four fonts/mockups that I sent the officer via email – I knew this one would take the prize and it did. Custom Engraved Guns!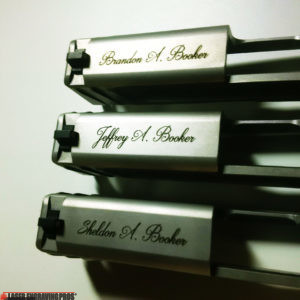 Revolvers, Shotguns, Long-guns, Pistols… you name it… we engrave it! We offer custom artwork, ideas and designs for all of the custom engraved guns that we engrave. Our designs are generated from scratch we want all of our custom engraved guns special in one way or another. We offer fonts and designs you won't see elsewhere as our graphic designs take their jobs very seriously. They enjoy having the ability to add their own spin to your ideas, this gives you the ability to show off something never see before and hardly available on the internet. We aren't here to throw a basic Ariel font onto your 1911 slide – we'd prefer to jazz it up with something not frequently seen before. Pictured right is a set of laser engraved 9mm hand guns for an entire family, they made great Fathers Day gifts. We have fantastic graphic designers on-site that help to ensure that your rifle, pistol or shotgun is going to impress everyone that takes a gander at it. Custom Engraved Guns!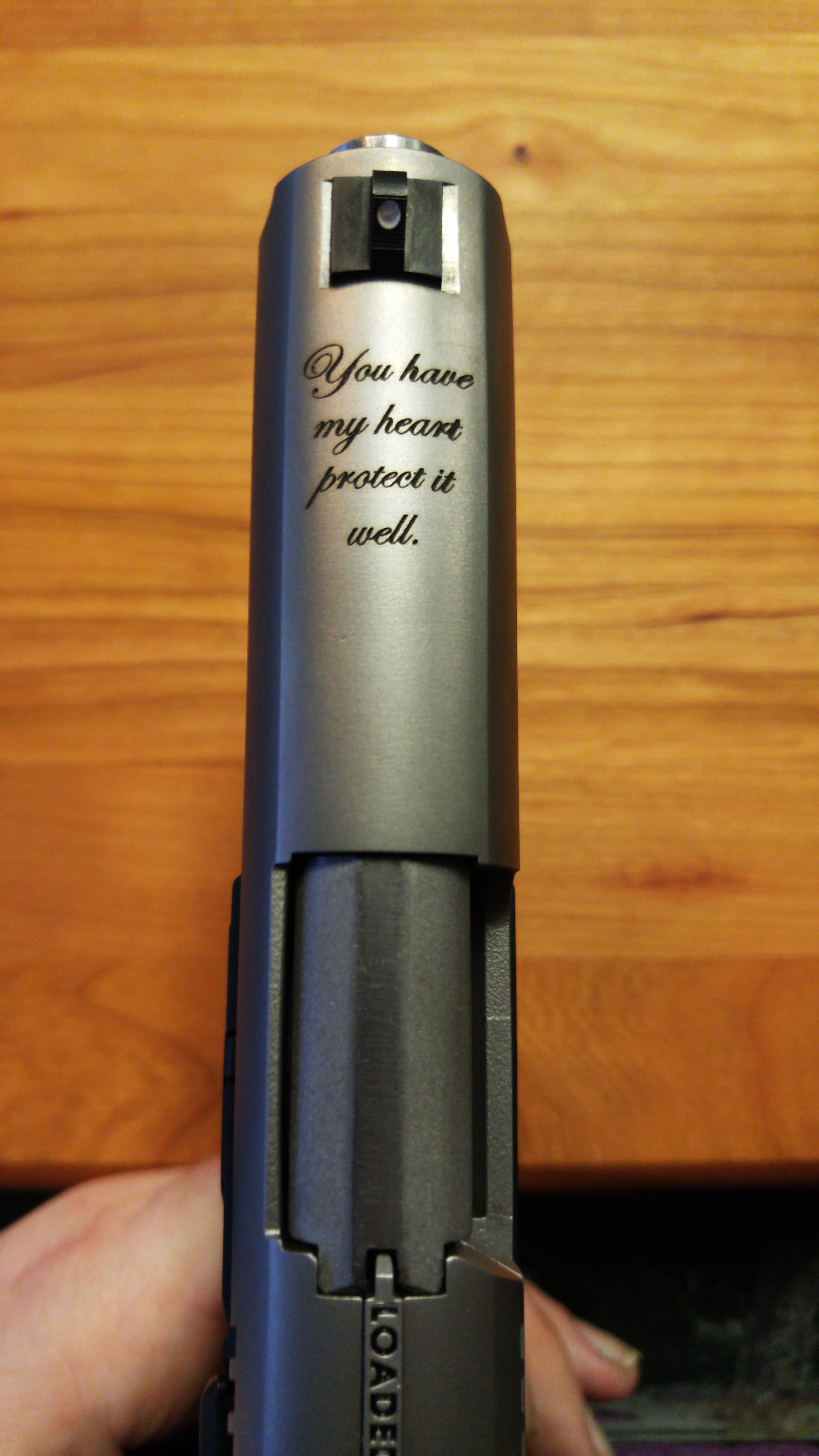 This engraved gun slide has a depth of about .003. We love custom engraving firearms and gun parts, especially when we get to make them look this cool. When we engrave a slide or a firearm, we are fastidious in regards to  detail and depth. We are a licensed FFL Manufacturer. SBS Marking, SBR Marking, Trust Fund Engraving, or high volume parts marking on metal surfaces. Custom Engraved guns are where it's at.
Do you have a project or want to get your firearm engraved? Do you want custom engraved guns?