Engraved Baseball Bats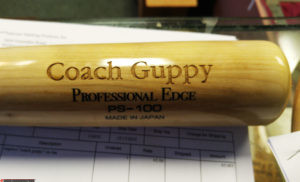 Not only do we love etching and engraving custom Engraved Baseball Bats , but we love the game itself just as much. Go Orioles! Whether it's quantities of 10, 200 or 20,000 – we are willing to take on the job and get it done properly and timely when you need it. We enjoy engraving wooden bats, signs, picture frames, clubs, tap handles, knives, wine barrels, barrel heads, and so much more! Paint-filling makes such a difference when it comes to engraving wood checkout the comparison images below! Contact us if you have items that you need engraved or if you need us to produce and engrave custom products.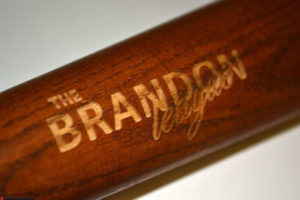 We can laser cut and engrave wood in virtually any shape. We can assist you with the graphics and artwork if you need assistance with customizing your Engraved Baseball Bats. Wood gives off a great smell in our laser department (usually). We love burning wood with our Lasers. We offer Engraved Baseball Bats as a way to display your message, brand or logo. Many products We enjoy producing Engraved Baseball Bats, signs, picture frames, tap handles, plaques virtually anything made out of lumber. Custom Engraved Wood is a natural and crafty way to display your message, company or idea. Custom Engraved Maple, Engraved Oak, Engraved Cedar,  Engraved Popular & Sycamore.

Custom Engraved Baseball Bats are fun to do, as we're big fans of baseball. Laser Cutting Engraving wood in sizes up to 32″ in length. Your lumber doesn't have to be flat we have various custom-built machines to meet the needs of the object that we are engraving. We can handle curvature to a certain extent. Laser Cutting Engraving Wood is they way they prefer to market their brand and logo. Not only to we offer the service of Engraved Baseball Bats, but we also laser engrave leather baseball gloves as well!
Engraved Baseball Bats!
Do you have a need for Engraved Baseball Bats?
CONTACT US
OR

OR