Laser Engraving Leather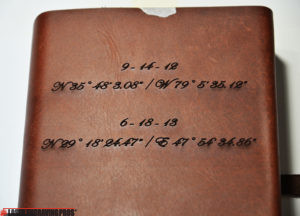 Pictured on the right is a beautiful piece of engraved leather that was later turned into a journal/book cover. We engraved the coordinates and two dates at which and when two lovely people first met and then later were married. This was a very heartfelt gift and will stand the test of time in someones hutch or box of keepsakes. When you get an idea and you have us burn it into leather, you're preserving that thought or time frame forever throughout your existence and others. Custom engraved leather goes a long way and let me tell you…. The Ladies Love it! Laser Engraving Leather is one of our favorite applications for custom engraving, especially gun holsters. Laser Engraving Leather !!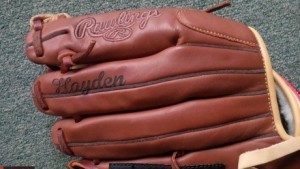 Leather comes in many shapes, sizes, colors and smells. Similar to this pleather clutch pictured on the right. Here at Laser Engraving Pros we KNOW leather. We can tell you based on what item(s) you have how well it will stand up to being engraved upon. Book covers, clutches, firearm accessories and virtually anything made out of leather can fit into our lasers. Custom Engraved Leather is our specialty, especially Leather Tablet Cases. Laser Engraving Leather is the best way to offer a gift that sets you apart from others.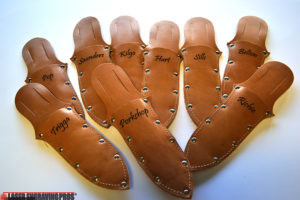 Pictured above is a great example – someone purchases a very expensive baseball glove yet is hesitant to allow it onto the field before customizing it. If you spend $200 on a nice ball glove for your child or loved one – you might want to protect that glove from accidental theft by investing a little bit into the cost to engrave it. Generally speaking I charge around $75 to etch a ball-glove as they kind of difficult to complete. Pictured on the right is a series of custom engraved leather sheaths for knives that were given to groomsman recently at a wedding. Laser Engraving Leather is permanent and offers a nice contrast that can be easily seen at any distance. Laser Engraving Leather is awesome. I LOVE Laser Engraving Leather !!
Laser Engraving Leather produces an interesting smell – however fancy script fonts and leather seem to go very well together.
Do you have a project or want to get something leather custom engraved? 
Laser Engraving Leather Richmond VA Engraved Leather Etching
CONTACT US
OR

OR