Engraved Portfolios & Books
Engraved Portfolios & Books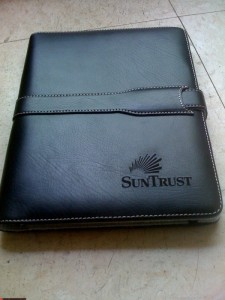 We love laser engraving custom books and portfolio's! Obviously true leather has the most effectively luscious presence when it comes down to laser blasting it with carbon but there are more options than just leather. We engrave Engraved Portfolios & Books like moleskines, portfolios, journals, notebooks and so much more. Pictured here is a portfolio case a student brought in to get custom etched with a logo. (hopefully he got an A+) We absolutely love engraving anything to do with wedding albums and Engraved Portfolios & Books. Do you need Engraved Portfolios & Books custom etched? You came to the right place ! We love custom etching technology! Engraved Portfolios & Books –  we can pretty much customize anything!  You name it we can mark it – We are located in Richmond, VA and are ready to serve you in your custom needs for apple and android products. Engraved Portfolios & Ipad Cases. Pictured is a beautiful piece of engraved leather that was later turned into a journal/book cover.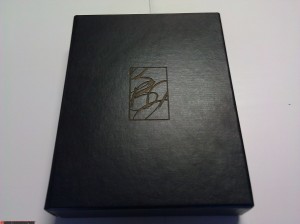 We engraved the coordinates and two dates at which and when two lovely people first met and then later were married. This was a very heartfelt gift and will stand the test of time in someones hutch or box of keepsakes. Custom engraved leather goes a long way and The Ladies Love it! – especially Engraved Portfolios & Books. This particular piece was a very soft piece of leather, the kind of feeling that makes you want to pick it up and open and close it over and over again. Laser Engraving Leather is one of our favorite applications for custom engraving, especially Engraved Portfolios & Books.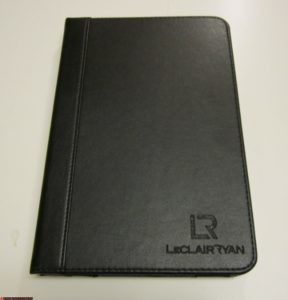 When you get an idea and you have us burn it into leather, you're preserving that thought or time frame forever throughout your existence and others. Leather comes in many shapes, sizes, colors and smells. Some leather is rustic, some leather has a polymer coating or something shiny on top. Some leather isn't real, it's just a plastic lie. Similar to this pleather clutch pictured on the right. Here at Laser Engraving Pros we KNOW leather. We can tell you based on what item(s) you have how well it will stand up to being engraved upon. Engraved Portfolios & Books, Book covers, clutches, firearm accessories and virtually anything made out of leather can fit into our lasers. Bring it in, we'll tell you if we can laser engrave it or not. Custom Engraved Leather is our specialty, especially Engraved Portfolios & Books are great ways to offer a gift that sets you apart from others.
Do you have a project that requires Engraved Portfolios & Books?
Do you need Engraved Portfolios & Books?
CONTACT US
OR

OR